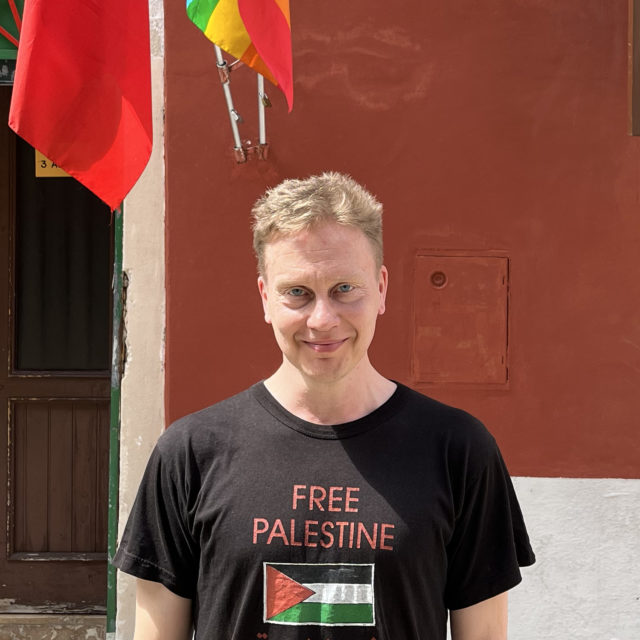 Teemu Mäki
TEEMU MÄKI (b.1967) studied at the Finnish Academy of Fine Arts (Department of Painting) originally in 1986–1990. Much later, when the Academy started its doctoral programme, he was among the first batch of doctoral students and got his doctorate in 2005.
Mäki has been a freelancing artist since 1990, except for 2008–2013, when he was the Professor of Visual Art at Aalto University. Nowadays, he works in many fields: he makes visual art, writes books and directs works for screen and stage. Mäki is equally interested in all these branches of art. He is fond of the loneliness of writer's and painter's work, and on the other hand, he also likes the collaborative nature of theatre, dance, opera and filmmaking. Furthermore, he takes pleasure in making non-verbal art — for example painting — as much as he enjoys the wordy work of a writer and theatre-maker.
In visual art his disciplines are: painting, drawing, printmaking, photography, installation and media art. By October 2022 he has had 59 solo exhibitions, has participated in 243 group shows, written nine books and written & directed numerous theatre plays, films and operas. Mäki is also a researcher, teacher and theorist. Ever since his doctorate he has been active in doing artistic research projects and in tutoring / supervising / examining doctoral students / works.
In his theoretical writings he has argued that art can be the extended, most versatile and flexible form of philosophy and politics. He has also often stated that art can be the best way to respond to the most fundamental questions, such as: "What's really going on? What is justice and how should we live? What is happiness? How to be happy? What kind of world should we create and what kind of beings do we want to become? What is good life?"
Mäki is involved in cultural politics too. He is for example the Chairperson of The Artists' Association of Finland (2018–) and the President of IAA Europe (2022–).
Add to My Favorites