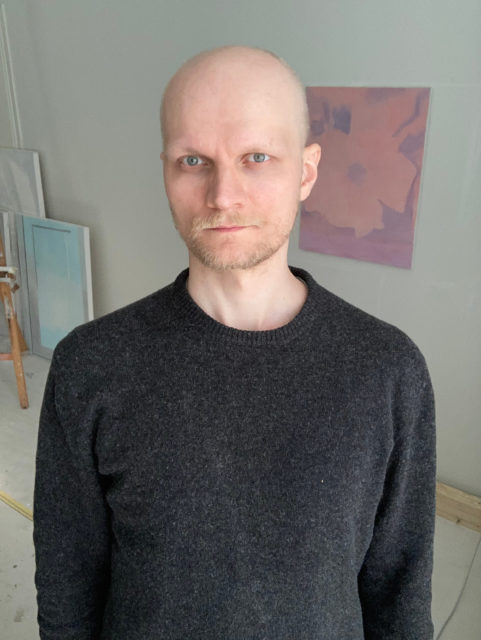 Topi Juntunen
Topi Juntunen (b. 1986 in Suomussalmi) is looking at a figurative world that operates through storing everything into photographs. Juntunen's paintings are based on pre-existing images, from his own archive, and/or digital collages based on found images. The actual painting acts as a human layer that breaks away from the photograph sometimes only serving as the starting point.
In Juntunen's work, the idea of a living being seen through various technologies is repeated. In this sense, the use of photography is central for him. Key aspects of the work are the ways of seeing, reproducing and using images. The constant closeness and withdrawal are also present in his work.
2014 was a watershed moment for Juntunen's painting. In search for direction he left the studio for long walks in the nature of his immediate surroundings and gradually started working on paintings based on the photographs from those trips. For many years, walking in the forest and the experiences associated with it were a key source for Juntunen's work: loneliness and desolation, the quiet presence of trees, a figure dissolving into it's surroundings.
Juntunen graduated from Lahti University of Applied Sciences in 2011, and from Academy of Fine Arts Helsinki in 2021. During the autumn 2020 Juntunen participated in Kuvan kevät degree show of the Academy of Fine Arts. His work Confrontation is part of the The Päivi & Paavo Lipponen Foundation Art Collection.
Add to My Favorites