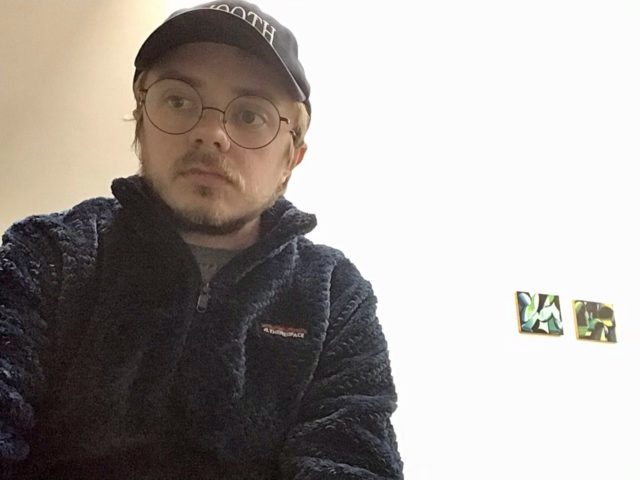 Timo Andersson
Timo Andersson lives and works in Espoo, Finland.
His painting-objects combine intricate material bodies with lush interplay of color, form and gesture. Primarily using polyester mesh fabrics stretched over canvas as painting surfaces, the dense and hypertextural works aim to subtly deconstruct the established visual tropes and motifs of post-modernist painting.  Rather than containing explicit references to either figuration or abstraction, the works firmly place themselves in an imaginary universe governed by its own logic.
A recurring gesture in his work is a soft and colorful polypropylene frame that acts as both a decorative boundary and a device to tie different, visually disparate elements together. Its purpose is also to highlight the physical presence of the paintings in a space, as active spatial agents with their own relationships between themselves and the viewer.
Having graduated with an MFA degree from the Academy of Fine Arts in Helsinki in 2018, Timo Andersson has taken part in several solo, two-person and group exhibitions in Finland and abroad. In addition to private collections, his work is included in the collections of the Kiasma Museum of Modern Art, Saastamoinen Foundation and the Academy of Fine Arts.
Add to My Favorites