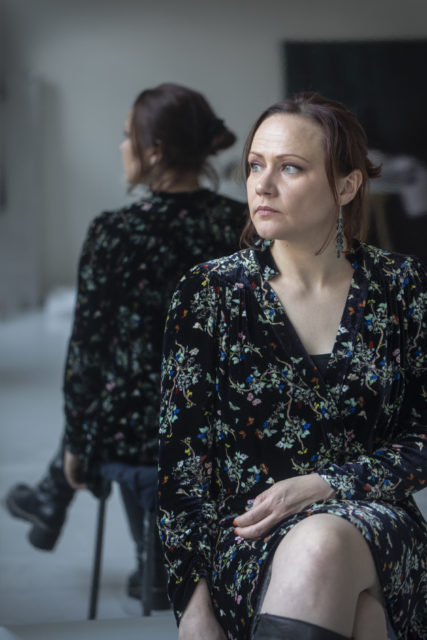 Tiina Pyykkinen
Tiina Pyykkinen's latest series of paintings expands on a fifteen-year investigation into how our brains process color and color's relationship to language and perception. Through a manipulation of material supports, pigments, and texture Pyykkinen seeks to heighten the viewer's awareness of color as an optical phenomenon while using it to trigger new insights into the relationship between memory and time.
Grounded in the depiction of a familiar object or space, Pyykkinen's surfaces are built up gradually over multiple layers. Together they create a hologramic effect that forces viewers to navigate around the work in order to discern the images beneath. For Pyykkinen, time and memory are visualized in the interplay between the viewer's moving body and the painting's own illusory movement.
The paintings' reflective surfaces create an additional layer. The viewer's reflection causes a visual disturbance that also implicates the viewer in the work directly. As the mirrored surfaces catch light and echoes of the surrounding room, they form a bridge between real and pictorial space. Through this method, Pyykkinen tries to forge a synapse between the viewer and the painting that toggles between the viewer's present and the painting's past. Her current series builds on these plural temporalities as well as on Pyykkinen's interest in human nonverbal communication, body memory, trauma, and the intergenerational transmission of collective memory.
Text: Amanda Sarroff
Pyykkinen graduated from Finnish Academy of Fine Arts in 2014 as Master of Fine Arts. Pyykkinen was selected as a Young Artist of the Year 2017 and her works have been presented at museums and galleries in Finland and other European countries. Her recent works have been exhibited in a group exhibition at Galerie Anhava in 2022. Her latest site-specific work was completed in 2020 to the main façade of Nova, Jyväskylä Central Hospital.
Add to My Favorites