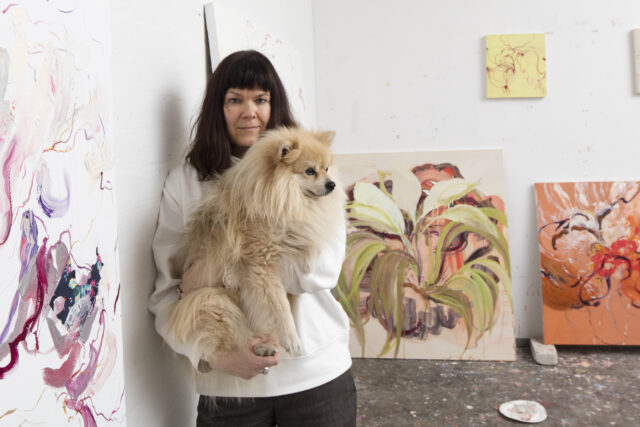 Tiina Elina Nurminen
The motif of the new paintings is flowering plants. In art history flowers are often associated with themes of growth and blossoming but also with ideas about decay, abandon and loss. Flowers and plants are also related to ideas of beauty, finitude,materiality and temporality. The shape of the flowers in her paintings can be either abstract or figurative.
During her stay in Uzbekistan, she became interested in materiality in a new way, and she found the local silk fabrics which she uses in various manners in the new paintings. The silk fabric, which is sometimes visible and sometimes invisible, brings material manifoldness and play with decorativeness.
When in front of her paintings, the viewer is at the borderline of visible and invisible because some of the layers,colours and qualities, you feel rather than actually see. Painting has from its archaic origins been an art of suggestion and make -believe. Her works are encouraging us to use our senses and enter into the fields of visuality.
She is represented by the Ama gallery in Finland and the Stalke gallery in Denmark.
Add to My Favorites