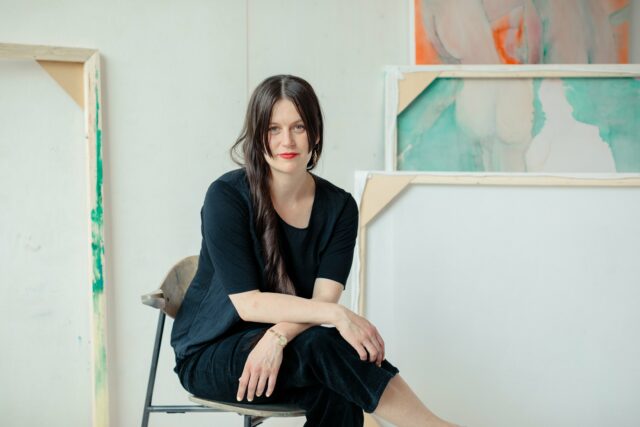 Sirkku Rosi
Sirkku Rosi works mainly with watercolor and performance art. She is interested in the flesh as a place of thinking, ritualism, and absurd poetics of mundane gestures. In her work, Rosi ponders the porous skin as a leaking border between us and other beings, circulation, shared waters, gardens as a place of joy and decomposition, and stones as body parts. She asks what we can cultivate and how, for a fragile future? How does it feel?
Rosi works both with small and large-scale paintings. Corporeal movement is strongly present in the painting process. She dances and uses somatic methods while working, exploring the figures in her paintings by taking and feeling the positions she paints. Our visceral state of being is present in her work. The wild movement of the internal organs, that we thought we controlled but that controls us. Fluids are moving, and fresh colors are luring us to see.
Rosi has had several exhibitions in Finland and abroad, and her works are in the collections of the Tampere Art Museum and the State Art Collections. She does not like gardening but enjoys wallowing in gardens. Rosi explores the connections between physical and visual art, femininity, and the shared experience of carnality. Her artwork contains feelings of diminutive and delicate carnival.
Add to My Favorites