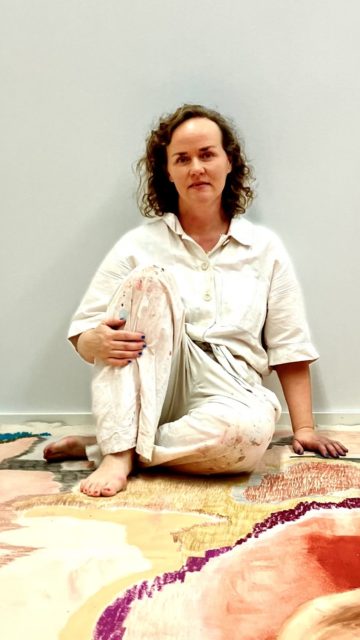 Siiri Pohjolainen
Siiri Pohjolainen´s sculptural, site-specific paintings live their own surface and exceed the limits of their frames. She makes large-scale canvases and discovers new forms in them. In her paintings and installations made with acrylic paint, their surface is configured in two ways: both as images of tangible surfaces and conceptual presentations. There, the canvas wrinkles, creases, becomes smooth and settles again. Pohjolainen handles the ground of paintings as if they were textile works by sewing the canvas with a machine. For her it is a tool for making collages.
Siiri Pohjolainen was born in 1979 in Lahti, Finland. She lives and works now in Helsinki. Pohjolainen graduated from the Academy of Fine Arts of Helsinki in 2017 with a Master of Fine Arts and from Free Art School as a painter in 2004.
Pohjolainen feels that she has always been an artist. As a child, she understood the other reality that art could offer to her. Symbolism and metaphors have always been in her interest. She started to paint with oil colours when she was four years old.
Her works can be found in many public and private collections, including the State of Finland, Kone Foundation and the City of Tampere. She has taken part in several group and solo exhibitions in Finland and abroad.
"To talk about the sleep of the material is a wonderful image… you have to wake it, to wake the material up." Meyer-Thoss 1992, p.122
Add to My Favorites