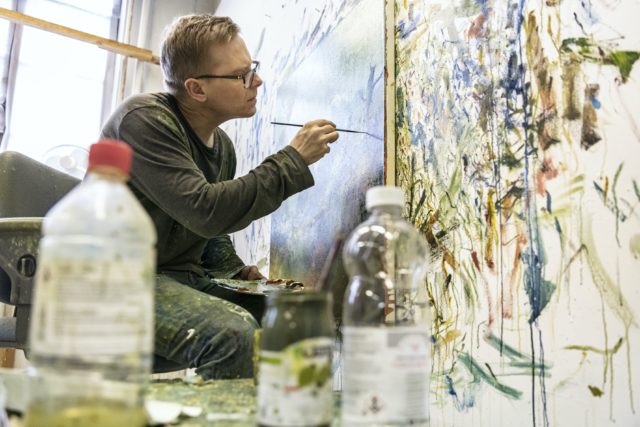 Petri Ala-Maunus
Petri Ala-Maunus (b.1970) is well-known for his landscape paintings, which, at a first glance, look like romantic pastoral scenes from the 19th century. In his paintings, the majestic scenes have become larger and more impressive than reality. The works, executed with great attention to detail, have a distinctive colour palette, sometimes limited to three or four tones, sometimes even to just black and white.
These paintings depict nature as something untouched and paradise-like, showing no people or human handprints. However, in some of the works, Ala-Maunus breaks the illusion by adding drips or garish colour that stand out from the rest of the painting, or leaves parts of the surface unpainted to highlight natural forces and dramatic terrain. The übernatur (supernature) captured in the artist's works refers to an imaginary landscape before or after humankind, either at the dawn of times or the final destruction.
The landscapes of Petri Ala-Maunus have been inspired by the 19th century German and North American landscape painting along with sundry sources of popular culture from typical metal album cover art to New Age themed Utopia illustrations. Ala-Maunus interest in popular music, steaming from experiences in his youth, can be seen in the content of his video work as well as in his paintings.
Add to My Favorites