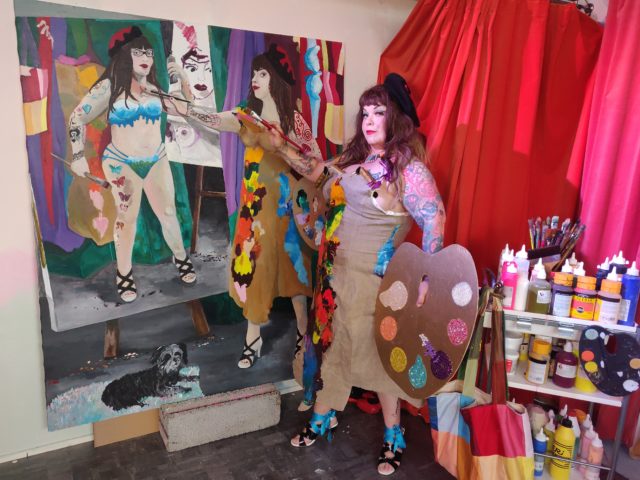 Petra Innanen
Petra Innanen is a multidisciplinary artist working with painting, ceramics, embroidery and performance art in the form of burlesque.
She graduated from the Academy of Fine Arts in Helsinki from the painting department in 1992 and made her masters in 1997. Later on she has studied ceramics as well as interior design.
Her work has a strong sense of storytelling, however, often the original idea springs from color, a contrast, a flash of lightning, a reflection. For Innanen the choice of media is a way to connect with her themes, painting can be done on canvas but it can also be embroided onto a pillowcase, it can be a 3-dimensional ceramic object, or it can be moving on stage in the form of a burlesque performance, kind of a moving sculpure.
Petra Innanen has been studying transformation, built identities and different roles troughout her career. She gets inpired by the oddities of everyday life but also the far ends of exaggeration, gets drawn into the drama of old Hollywood divas versus a brutal punk rock show, she loves strong female characters, subcultures and weird fairytales. As a passionate gardener she studies the methaphorical lifecycles of nature, the sensuality of flowers, the longing of a new beginning and the melancholy of fading beauty.
Her work is included in collections such as Oulu Art museum, Finnish state, Helsinki City, Amos Rex, Saastamoinen collection. She has been awarded with the William Thuring prize and has exhibited her work in both museums and galleries. Her performances have been seen in museums, galleries and various venues internationally and domestically e.g. in New York, Paris, Venice, Rome, Los Angeles.
Add to My Favorites