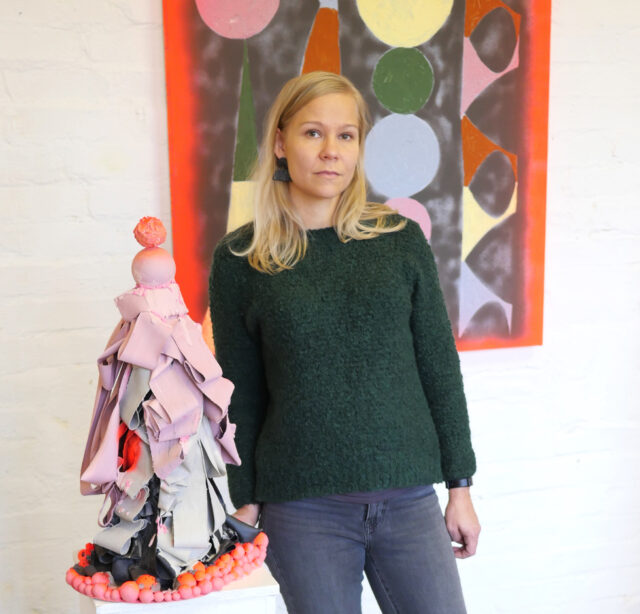 Katri Mononen
Katri Mononen, born in 1981, is a Nokia-based visual artist. Her work focuses on the study of the language and diversity of painting.
Mononen's paintings are a sum of several interconnected themes. Personal life, art history and current interests certainly have an influence, but often the painting process in itself inspires her the most. To her, painting is thinking, and the act of painting spurs ideas for new works.
The most recent paintings by Mononen show a playful and experimental approach. The influence of modernist paintings, especially those of Hilma af Klint and Paul Klee, is evident in her works. Mononen's paintings are mostly abstract, but, at times, one can see familiar subjects in their forms. Sometimes the forms reference various everyday objects or plants, while at times they take thoughts much further, all the way to space fog. The line between representational and abstract is allowed to blur.
Katri Mononen paints on canvas, combining acrylic, oil and spray paints, as well as collage materials. Sometimes her paintings take a three-dimensional, sculptural form, or are worked on paper. The materiality of painting, layering, and the ability of different colour combinations to evoke feelings and associations is quintessential to her work.
The driving force in Katri Mononen's artistic practice is the openness and unexpectedness of the painting process. Some of the pioneers of the early 1900s abstract painting, most importantly Hilma af Klint, were painting guided by spirits. Now, over a hundred years later, many of the phenomena that were previously considered mysterious, have received a scientific explanation, but there is still a lot that remains unexplained in this world. In Mononen's paintings, one can see longing towards the mysteries and the invisible world, and an attempt to access a childlike state where everything is possible and just about to take shape.
Katri Mononen's works have been shown in solo exhibitions, including galleries such as tm•gallery, Helsinki (2021), and Galerie Pleiku, Berlin (2018), and in group exhibitions, including the Lappeenranta Art Museum (2019) and RARE Gallery, New York (2014). Her works belong in the collections of the Tampere Art Museum and the Raimo Anttila Foundation.
Add to My Favorites