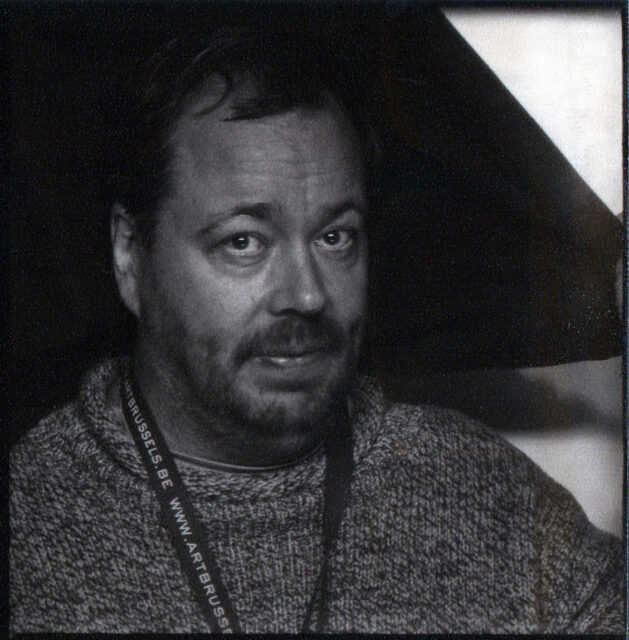 Jukka Korkeila
Jukka Korkeila is a visual artist and a painter. He lives with his partner in the small village of Glauburg-Stockheim in Oberhessen (DE). They also have homes in Berlin and Helsinki. 
Korkeila works with paintings, drawings, and painterly installations. In essence, he has dealt with and continues to deal with the subject matters of identity and corporeality in his work, which could be considered to have dealt with body positivity and toxic masculinity since 1995, when these concepts did not even exist yet. In his work, he also deals with sexuality, the spiritual nature of man, and religiosity. Despite the seriousness of issues he is dealing with, there is always positivity in his work: light, joy, and humor, through which the serious things are more easily received.
Korkeila studied architecture at the Helsinki University of Technology, Espoo, 1988-91, Interior Architecture and Furniture Design at the Helsinki University of Art and Design, Helsinki 1990-92. Finally, he studied at the Academy of Fine Arts, Dept. of Painting in Helsinki, 1992-97, after which he did the Erasmus student exchange to the Hochschule der Künste (HaDeKa) in Berlin and that is practically the way he still is in. He taught at the Academy of Fine Arts in 2002-2015 and was a senior lecturer of painting there in 2004-2009. He is currently teaching at the Free Art School in Helsinki.
Korkeila has participated in the 26th Bienal of São Paulo (2004), Prague biennials I (2003) & III (2007), the 4. Bienal del Fin del Mundo in Mar del Plata, Argentina (2014-15), Pleasure-exhibitions at HAM (Helsinki Art Museum) & Serlachius Art Museum (2017-18) and SANGUINE, BLOEDROOD, Luc Tuymans on Baroque-exhibition at MUHKA (Museum of Contemporary Art in Antwerpen) (2018), which was curated by Luc Tuymans. In 2019 Korkeila was awarded the state prize for visual arts in Finland. 
Add to My Favorites