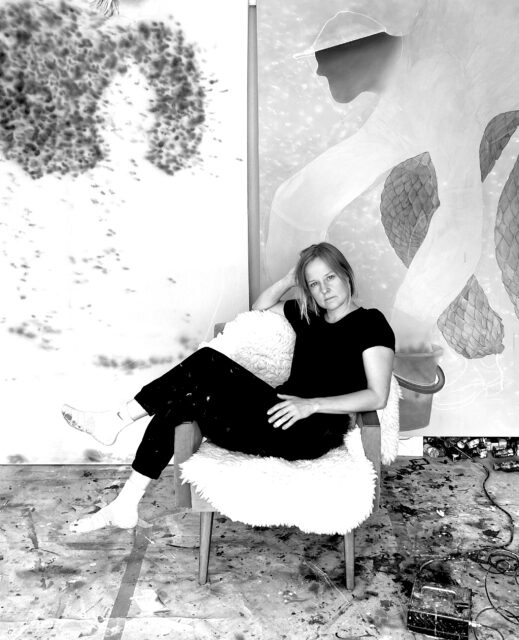 Hanna Kanto
Hanna Kanto's work explores new perspectives into the relationship between the people and nature of the North. Her work weaves together the ecological, economic, and mundane world with the spiritual, mystical, and strange. The results are surrealistic scenes of Finnish forests seen through the poetic language of painting and sculpture.
The exhibition is a continuation of Kanto's previous body of work, which examined the natural processes and environmental changes occuring in the North through a scientific gaze. Her current work expands on this perspective in a kaleidoscopic manner – highlighting the role and agency that humans play in the landscape. Kanto's work blurs natural and industrial themes with abstract elements, as well as scientific apparatus – which reveal our complex entanglement with nature, and particularly our attitude toward exploiting its resources.
Kanto's work is concerned with exposing us to alternative perspectives and possibilities – the paintings act as macroscopic views into the forest, revealing the perspective of a small critter discovering manmade materials, trash, and berries amongst the moss. They can also be understood as everyday scenes of forest surfaces: A dapple of light filtering through the tangle of branches and fir, shimmering against the surface of the berry-picking rake or one's rubber wellies. In Kanto's paintings, the northern forest reveals itself as a hybrid between the material and the mythical, into which the viewer is immersed and allowed to wander.
The current ecological and ideological debate on the treatment and fate of our forest and bogland is increasingly heated and polarised. Kanto uses this public discussion and research literature as a starting point into examining the conflicts and questions raised by these issues. Her primary material however, comes from intimate experiences and observations growing up in a family of  forest owners and avid berry pickers.
Kanto has studied the art of transforming natural and organic matter into the materials of painting and sculpture. She describes gaining a tangible connection to nature when roots, plants, and mineral samples are refined into pigment or sculptural installations. She is interested in exploring the essence of materiality, and the variety of colour one is able to extract with chemical processes.
Hanna Kanto (b. 1981) is an artist from Tornio, Northern  Finland, who currently lives and works in Helsinki. Kanto graduated with a Master's degree in Art from the University of Lapland in 2007 and a Master's degree in Fine Arts from the Academy of Fine Arts Helsinki in 2022. She has lived and worked in various parts of Lapland, the Norrbotten region, as well as in France. She has held numerous solo and group shows in Finland and abroad. Hanna Kanto mainly works in painting, but she also has an affinity to ceramics –sometimes incorporating these sculptural elements into her paintings, and at other times, letting them stand as independent works– serving as wall reliefs or three-dimensional forms in the gallery space.
Add to My Favorites