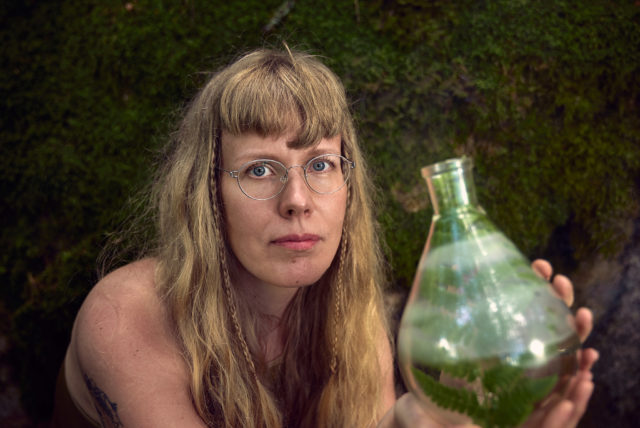 Elsa Salonen
Elsa Salonen prepares the pigments for her works by grinding a wide variety of raw materials, such as meteorites and seashells, as well as by extracting colours from plants and algae. She views the pigments as collaborators whose 'experiences' define the conceptual message of each work. For example, she has used stones which are millions of years old as pigments, to depict the lost landscapes of the Carboniferous Period (Stories Told by Stones, 2018), and burned fox bones to paint a herbarium that reflects on the circle of life (Eighty Modest Statements About the Impossibility of Death, 2013). She gathered many of the materials herself at natural sites around the world, where the more unique materials are collected with the help of specialists.
In addition, Salonen distils colours from flowers and bleach plants to make them appear entirely white. The technique is based on a notion that most organisms, both in the plant and the animal world, seem to lose their colours in death – flowers wither and bodies blanch. Thus, all the colours in nature signal the presence of life energy.
Salonen's practice draws on the traditions of painting, installation, and conceptual art. The works are marked by the influences of science, animism, and alchemy. Medieval alchemists studied natural materials, which they also used to make colours. Through the materials, they sought to understand the surrounding universe as well as the interconnectedness of everything in the cosmos and the individual's role amongst all others; oneself. One of the most important steps in alchemy was repeated distillation, which left the purest essence of the substance – and the alchemist – in the glass flask. Through art, one has the possibility to keep alive a discussion about thoughts that can give us hope and meanings.
Salonen's studio is based in Berlin, in addition, she regularly works at the Finnish archipelago and at number of international artist residencies.
Location
Southwest Finland
Website
Add to My Favorites