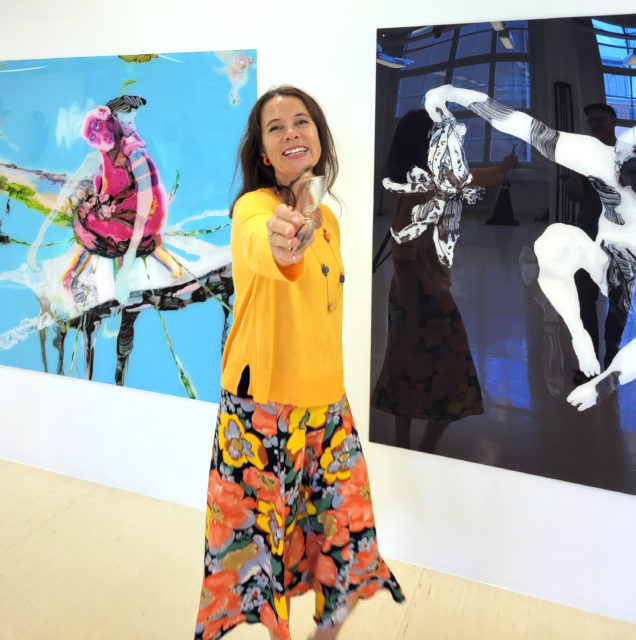 Elina Ruohonen
Elina Ruohonen has been a visual artist for 25 years. Her central theme in art is the state of our planet and its future, as well as the connection between the animal and human worlds.
Having worked tirelessly on her material, Ruohonen has now, by 2022, achieved 100 % recyclability in the ground material of her paintings.
Ruohonen creates her work on both sides of transparent acrylic sheets. In her double painting technique, the tangible and sensitive, three-dimensional surface combines with the artist's distanced, out-of-reach touch. The manner of painting suggests the past and, simultaneously, the time still perceivable in the present moment. The floating concept of time in the works glides into the uncertainty of the future, to its losses, expectations and hopes – and, as always with Ruohonen, love. The fragile and vanishing nature where her living creatures roam is on the edge of doom in the paintings, but the main figures, animals or often sexless humans, have a sharp and focused gaze. Something is on its way, something that the creatures know and their bodies remember, but is as yet unclear inside the work.
The 2020s are transforming Ruohonen's art. She calls energising orange and utopian turquoise her intermediary colours. What were earlier mixed human and animal creatures are now more clearly of the animal world: bears, horses and people wearing future helmets for awareness or safety. The surrounding space is either above or below reality. In the landscape, arresting and unexpected organic and inorganic objects fall on the ground, reflect off a rocky wall or rise from the rootstock.
The figures in the paintings head beyond the limited thinking of humans. Planetary consciousness gives birth to creatures of the future who act on a new kind of logic. To discover that, Ruohonen creates new paths in her art.
Location
Southwest Finland
Website
Add to My Favorites