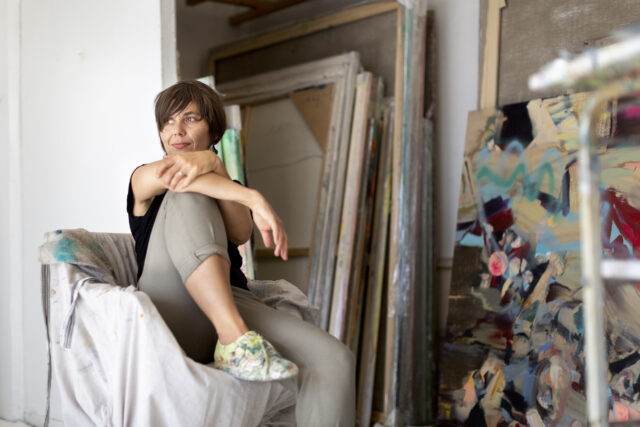 Alina Sinivaara
Alina Sinivaara (b. 1978) graduated as a painter from the Free Art School in 2007 and from the University of Art and Design in 2005. Her previous solo exhibitions were at Ama gallery (Helsinki), Nouvo Gallery (Lahti), and at Mikkeli Art Museum. The latest group exhibition was an invited exhibition at Kunsthalle Seinäjoki.
Playing around with colours is key to Alina Sinivaara's artistic expression which has, over the last few years, found form alongside colour from dynamic expressionism. In Sinivaara's paintings, form is not constructed through the tight definition and deliberately strict confines of composition; instead, her expression moves without force and freely on the surface of the canvas.
Over the past few years, the artist has found the content for her art from a seemingly anti-artistic topic – team sports and more precisely football and ice hockey. Lately she has concentrated on the movement of her own body as experienced in dancing and painting. It is the bodily expression which erupts as colour masses and rythm of lines on painting surfaces.
Sinivaara's works can be found in the collections of the Mikkeli, Kuopio and Lahti Art Museums, Jenny and Antti Wihuri Foundation, State Art Deposit Collection, among others. Sinivaara received the William Thuring Prize in 2018.
Alina Sinivaara is represented by Ama Gallery, Helsinki.
Add to My Favorites