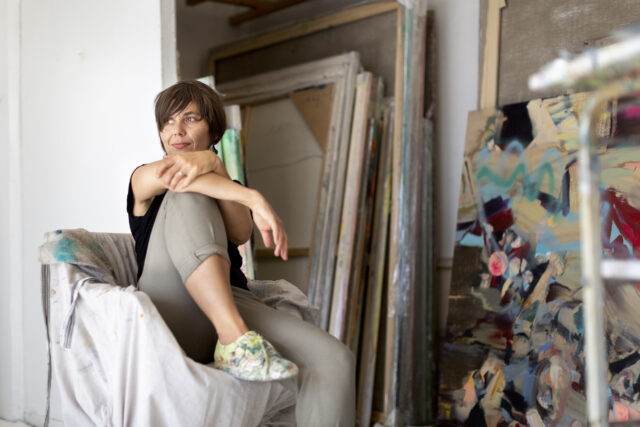 Alina Sinivaara
Alina Sinivaara´s (b. 1978 in Helsinki) dynamic paintings are a remarcable combination of the lightning-fast events on the playing fields, images reflected on screens, the roar of the audience – and the vacant silence of a deserted pitch. The large and energetic artworks painted with brilliant colours spread in front of the viewer as sports imagery executed using the means of the traditional art of painting.
Topics for Sinivaara´s works are drawn from nearby. This time her son's football hobby gave the incentive. She depicts sports halls, fields and changing rooms, in addition to the events on the field. Her dialogue with the canvas is a sign of the vitality of the art of painting and its capacity to take new steps into unforseen directions.
Sinivaara studied at Free Art school and University of Art and Design in Helsinki. Her latest solo exhibitions were at Mikkeli Art Museum (2020-2021) and at Ama Gallery, Helsinki (2021). Her paintings can be found at the Finnish National Gallery, Kuopio Art Museum and The Paulo Foundation. Sinivaara was granted the William Thuring prize in 2018.
Alina Sinivaara is represented by Ama Gallery, Helsinki.
Add to My Favorites